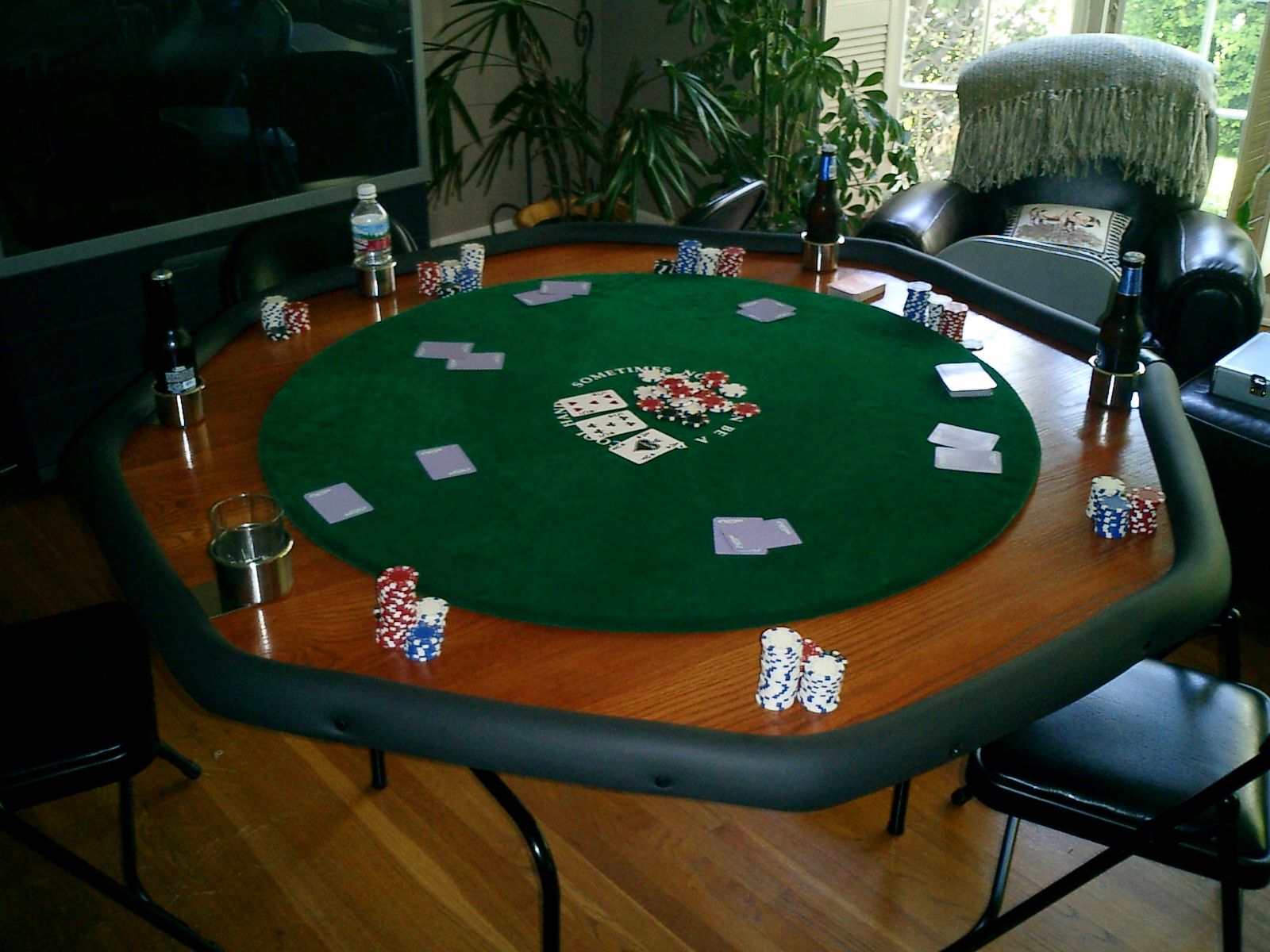 Haven't found that table you really want? Tired of those wannabe table tops, cheap oak tables, and huge wooden goliaths? Do it yourself and customize it EXACTLY the way you want! I will walk you through the building of my poker table step by step so that anyone can build the table of their dreams. Customization at its best with differing shapes (circle, octagon, pentagon etc), sizes (4 ft., 5 ft. etc), woods (Oak, Cherry etc), stains (dark, light, gloss etc), felts (green velvetine, red felt etc), and even your own slogans and lettering on the actual felt. Let this be your guide, but remember - with just small changes most of these steps can be customized to your exact liking.
WHAT YOU WILL NEED: (besides a brother to help you - thanks again, Matt!!!)

TOOLS - (can also be rented) Jig Saw, Skilsaw, Staple Gun, Drill w/bits and screwdriver attachments, clamps, sand paper - rough 100 to fine 320, latex gloves, cheese cloth or tack rags, brushes or cotton rags

MATERIALS - spray adhesive, plastic wood, stain and gloss, 1/2" wood screws, generic handles, four 1.5" bolts and nuts, (the following i got at pokernstuff.com and casinosupply.com) casino poker table felt or velvetine, enough "Perfect Padded Rail" to cover your perimeter, pair of fold up table legs (black or chrome), 1/4" poker table foam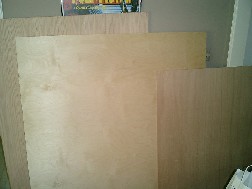 First, plan your size, shape and woods. I play a full game with at least 7 to 8 people so i wanted to have a large 5 ft. diameter octagon with an Oak top (Oak tends to look great stained). We take turns dealing so a large oval Hold 'Em table was out of the question. I purchased two full sheets of 1/8" Oak for the top, one 4'x4' 1/8" sheet of Louan for the felt playing area (since it wont be seen, its the cheapest), and one 5'x5' 3/4" Birch plywood for the strength of the table.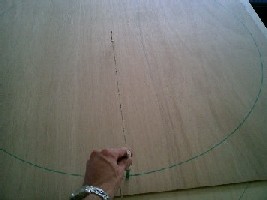 Take the 4'x4' Louan and by crossing the corners, find the exact center of the square. Decide on how large of a playing area you would like. In my 5' (60") diameter octagon, I decided on having a 44" diameter circle playing area, leaving me 16", or 8" of room per side between the end of the table and the felt for drinks, chips etc. Hammer a nail in the exact center point of the sheet. Then I tied a 22" (1/2 the diameter for the radius) piece of string to the nail and the other side to a marker. Keeping the string at exactly 22" in length, draw your circle.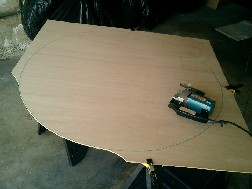 Using a hand held jig saw, carefully cut out your circle. When making any cuts, it is always good to use clamps to prevent most mistakes.